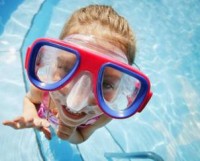 Parents Guide to a relaxed Swim Lesson
1. Try to arrive a bit early talking positive with your child, that way you will not have to rush to put them in the water. Especially if the swim experience is new.
Your child will feel calm and ready and lessons will be more successful.
2. If possible dress your child at home so they are comfortable in swim wear.
3. Arriving early will also allow you and your child to get use to the surroundings of a child filled aquatic center. You may need to get use to it. LOL
{ 3 comments }